VISIT OUR NEW STORE - Buttons, T-Shirts, Bags... You name it! Help the cause - CLICK TO PURCHASE
---
NEWS UPDATES
Update 1-29-2013
PLANNING COMMISSION HEARING - San Francisco Overlook Development
Thursday, March 7, 2013
Room 400, City Hall, 12 Noon
IMPACTED AREAS: Crestmont Drive, Devonshire Way, Oak Park Drive, Warren Drive, Christopher Drive, Sunset Avalon Towers, Kirkham Heights Apartments
ISSUES OF CONCERN: Geoseismic/Landslide Risk; Hillside destabilization during construction; Risk to existing homes; Impact on adjacent apartment complexes; Parking; Traffic hazard; Narrow treacherous road; Many safety issues; Emergency vehicle access; Poor public transportation; No exit cul-de-sac; Oversized 34 unit development out of character with neighborhood.
Everyone opposed to this project is urged to attend the hearing!
Those who wish to speak will have 3 minutes to present their arguments against this massive 34 unit development which threatens our neighborhood.
We have strength in numbers and attendance is critical !!!
Click here for printable flyer >>>
---
Update 10-20-12
Position Statements by Four District 7 Supervisorial Candidates
We have met and spoken with four of the major District 7 Supervisorial candidates, or their representatives, and provided them with extensive materials outlining the reasons why our neighborhoods are united against a project the size of the proposed San Francisco Overlook development. We solicited their comments for distribution to the Crestmont–Mt.Sutro–Forest Knolls community.
Responses were provided by FX Crowley, Joel Engardio, Mike Garcia and Norman Yee.
Click here for the Position Statements.
---
Update 6-25-12
Response to Planning Department regarding Draft EIR (DEIR)
Letter from McKenna Long & Aldridge LLP on behalf of Mt. Sutro Woods Owner's Association (MSWOA): "...we believe the DEIR is severely flawed in many respects and fails to meet minimum legal requirements as an informal document under CEQA. The DEIR needs to be supplemented with additional information, analysis and mitigation."
The letter addresses the following issues:
Geology & Soils
Construction Impacts
Parking
Circulation
Alternatives
Parking & CC&Rs
Violation of Arbitration Decision
Click here for letter (2 MB document)
---
Update , 6-14-2012
The Draft EIR comment period is ending on June 19, 2012.
Letters or e-mails received after that date will not be considered or responded to. If you have not yet sent in your comments to the Planning Department, please take a look at the following letters:
You may wish to adapt, revise, cut & paste, etc., to express your specific concerns. Please try, as much as possible, to address specific issues, topics, or sections of the Draft Environmental Impact Report (DEIR).
Update, 5-2-2012
DRAFT EIR PUBLISHED!
The Draft EIR for the San Francisco Overlook Project was published May 2, 2012, and is available for review online, http://sfmea.sfplanning.org/2004.0093E_DEIR.pdf  
Paper copies (510 pages) and CDs are available at the Planning Information Center (PIC) counter at the Planning Department, 1660 Mission St., San Francisco. The public comment period, during which the Planning Department must respond to any objections, extends for 45 days and we urge all of our neighbors to review this document and provide feedback and objections to the Planning Department and the Planning Commissioners, as well as our Supervisor Sean Elsbernd (see addresses below).
The more letters the Planning Department receives, the more impact our concerns will have. You are not limited to a single letter, and each letter can address a separate issue of concern.
The Planning Commission Public Hearing will take place Thursday, June 14, 2012, Room 400, City Hall. Prepare now to join your neighbors to add your voice to our objections to this massive project which threatens to overwhelm our neighborhood. Commission meetings begin at 12:00 PM, but we will be notified of a more precise time in advance.
Planning Department:
Bill Wycko, Environmental Review Officer, San Francisco Planning Department
1650 Mission St., Suite 400, SF 94103
bill.wycko@sfgov.org
Commissioners: Address same as above.
Rodney Fong, Commission President, planning@rodneyfong.com
Cindy Wu, Commission Vice-President, cwu.planning@gmail.com
Michael Antonini, wordweaver21@aol.com
Gwyneth Borden, plangsf@gmail.com
Ron Miguel, rm@well.com
Kathrin Moore, mooreurban@speakeasy.net
Hisashi Sugaya, hs.commish@yahoo.com
Supervisor Sean Elsbernd, City Hall, 1 Dr. Carlton B. Goodlett Place, Room 244, SF 94102,Sean.Elsbernd@sfgov.org
REMINDER: Please display the poster in your window and urge your neighbors to also display the poster! If you need a poster, please call 415-640-3869 or email info@crestmontpreservation.org
More information and addresses for objections:
SF Overlook Hearing - View PDF
---
Update, 3-6-12

March 21, 2012 - Publication of the Draft Environmental Impact Report (DEIR) on the SF Overlook project at the end of Crestmont Drive.

April 26, 2012 - Public Hearing before the Planning Commission. Please pencil in this date on your calendar and plan to attend this important hearing. We will need to appear in force and make sure our message is heard! 
Monday, May 7, 2012 - End of review and comment period. We will mobilize all our resources at that time to make our neighborhood's voice heard.
---
Update, 10-25-11 
Dates for Public Hearing Expected in January 2012.
Information recently obtained from the Planning Department indicates that the Draft Environmental Impact Report (DEIR) on the SF Overlook project at the end of Crestmont Drive is expected to be published in December.

Once it has been published, we will have a 45 day period to write letters and e-mail our objections, critiques, concerns and objections and to petition the Planning Commission. We will mobilize all our resources at that time to make our neighborhood's voice heard.

There will also be a critical public hearing before the Planning Commission thirty days after publication of the DEIR. Place, time and exact date to be announced. We will notify you as soon as we are informed of the date and other details so that you can pencil it in on your calendar and plan to attend this important hearing.

We will need to appear in force and make sure our message is heard!

---
Update, 6-25-11
Preparing for Upcoming Publication of 2nd Draft of EIR
As summer has begun, we are awaiting the publication of the 2nd draft of the Environmental Impact Report (EIR) pertaining to the SF Overlook 34-unit condominium project at the end of Crestmont Drive. Once it has been published, we will have 30 days to express our concerns and objections regarding this oversized development which will add far too much traffic, parking congestion and density to our neighborhood. We will notify all of our Mt.Sutro Woods and Forest Knolls neighbors when the time comes to deluge the Planning Department with letters. It will also be important that we attend and speak at the public hearing which will be held by the Planning Commission.

With a united effort on the part of the community, we believe we can stop this project in its present form. If something must be built on this treacherous hillside, we are fighting for a much scaled-back development of far fewer single family homes which would address the critical issues of safety, congestion and density at the end of this fragile cul-de-sac, and be more in character with the surrounding neighborhood.
As a visible reflection of our resolve, we have adapted the now familiar red and yellow "STOP SF OVERLOOK DEVELOPMENT" poster to a line of t-shirst and sweatshirts. We have been wearing them on our walks around the neighborhood and several neighbors have expressed the wish to obtain these distinctive sportswear items for themselves and their family members, to further spread the message of their objection to the proposed development. We hope to see many neighbors at the hearing wearing these t-shirts and sweatshirts as they might send a powerful message of neighborhood sentiment and cohesiveness! If you are interested, the t-shirts and some other STOP SF OVERLOOK items can be ordered here: http://www.zazzle.com/preservecrestmont

REMINDER:
Please display the poster in your window and urge your neighbors to also display the poster! If you need a poster, please call 415-640-3869 or email info@crestmontpreservation.org.
---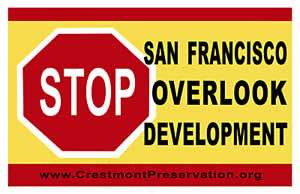 UPDATE April 24, 2011
CRESTMONT DEVELOPMENT THREATENS AGAIN!
Same massive 34 condo project with minor revisions
Same Developer, New Partner and New Name
"SAN FRANCISCO OVERLOOK DEVELOPMENT, L.L.C.
The project is in the last phases of the EIR
(Environmental Impact Report)
Mandatory SF "Community Workshop" Meetings
Tuesday, May 3 and Wednesday, May 4, 2011, at 7 PM
Clarendon School, 500 Clarendon Ave, San Francisco
Please attend the meetings and express your opinions about this development which threatens our neighborhood
SAFETY FEARS
Much more traffic on narrow Crestmont Drive, San Francisco's longest cul-de-sac
Dangerous for drivers, pedestrians and children - Limited access and passage for emergency vehicles
Destabilization of the hillside above and below
NEIGHBORHOOD IMPACT
Loss of green space - Insufficient parking - No public transportation
More traffic and parking congestion in Forest Knolls
Please display the new "STOP SF Overlook Development" poster in your window
In the News:
Crestmont Hills Project a Textbook San Francisco
November 26, 2007 - The Examiner
by Ken Garcia
People who watch the way development takes place in San Francisco could view the history of a project near Sutro Tower to try to understand why neighbors so often feel they're living on a slippery slope. Residents in and around Crestmont Hills were aghast three years ago when they were alerted of plans by a developer to build 34 three- and four-bedroom luxury condominiums on a 50,000-square-foot parcel. The homeowners in the area near UC San Francisco expressed concerns about the density of the project for an area that is one of the most heavily wooded and quiet neighborhoods in The City...
Read the full article in The Examiner
---
UPDATE May 13, 2007
Major recent events have taken place which appear to indicate the end of the Crestmont Hills Development project. In mid-April we were alerted that a Trustee Sale of the Crestmont Hills LLC Property would take place on April 30. Investigations into the status of the project indicated payments due for property taxes and for the Environmental Impact Report (EIR) were in arrears. On April 30, the property was sold, for approximately $1.3 million, to the former partner of the developer, Mr. Magaved Magomedov. It is our understanding that none of the corporation's plans or designs, geologic or other surveys, EIR materials were transferred in this sale. As a result, the entire project has been now deemed as inactive by the Planning Department, with no intent to move forward.
The next anticipated step by the Planning Department will be final closure of the project. While these events strongly suggest that the massive and ill-conceived Crestmont Hills development is no longer a threat to our neighborhood, we will remain vigilant: negotiations between the former developer and the new owner could conceivably resurrect the project as it was initially proposed, in which case our struggle must continue. Alternatively, the new owner may propose entirely different plans for development of the property, which could touch off a new challenge. Therefore, it may be premature to declare victory and take down our "Stop Crestmont Hills Development" posters just yet. Nonetheless, we seem on the threshold of success in preserving the safety, tranquility, and quality of life of our neighborhood, which we all value so much.
All of our Forest Knolls and Mt. Sutro Woods neighbors who have displayed posters, written letters to the Planning Department and to City Hall, come to meetings and hearings and contributed to this 3-year effort deserve our thanks and congratulations. And, we musn't neglect to also thank our Supervisor, Sean Elsbernd, who played a very important and constructive role at several critical junctures in this process. He deserves our appreciation and support.
---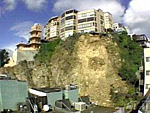 Landslide on Telegraph Hill, February 27, 2007
Similarities to Telegraph Hill frighten Mt. Sutro Neighborhood facing threat from lage new condo development.
The enormous rockslide which displaced 120 resident of Telegraph Hill early in the morning of February 27 and rendered seven buildings uninhabitable is more than just a passing matter of interest to residents of Crestmont Drive, a long cul-de-sac on the north slope of Mt. Sutro. The conditions which led to the Telegraph Hill slide appear eerily similar to the Mt. Sutro hillside: one of the steepest slopes in the City composed largely of sandstone with a history of nearby quarrying until 1958 and with a documented history of landslides.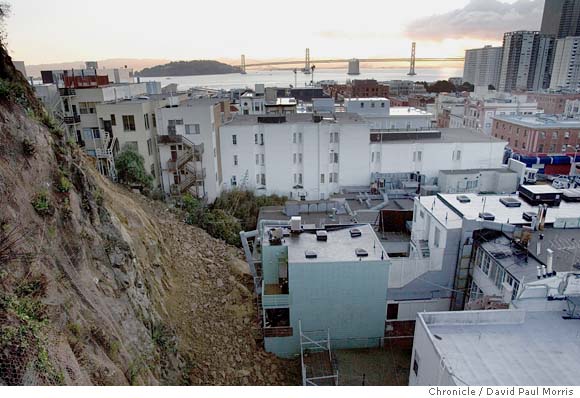 Telegraph Hill landslide forces 120 from homes.
'I thought it was an earthquake ... There were rocks everywhere'
Article in the San Francisco Chronicle, Wednesday, February 28, 2007
Read more: http://www.sfgate.com/cgi-bin/article.cgi?f=/c/a/2007/02/28/SLIDE.TMP#ixzz17mhwtmFq
---
New Ordinance: Crestmont Hill Slope Protection Area - Proposed by Supervisor Sean Elsbernd
Click to read the ordinance passed by the Board of Supervisors, January 23, 2007
---

July 13, 2006
Hillside gives way in Contra Costa County - Landslide forces evacuations in Pittsburg
Heavy equipment was used and residents said they blame work going on for a new subdivision below the area.
http://www.kcra.com/news/9520178/detail.html
http://www.ktvu.com/news/9517743/detail.html
Don't let this happen to Crestmont Drive!
---
NOTICE OF PREPARATION (NOP) OF AN ENVIRONMENTAL IMPACT REPORT (EIR)
Issued May 27, 2006 - Case No. 2004.0093E
Click to Read the Full Initial Report Map of Area
Read Coalition Response to IS/NOP by the Planning Department
---
URGENT RESPONSE from the community is required by June 26, 2006!
Every letter matters and is counted!
FLYERS:
We are circulating flyers targeted to specific streets
PETITION:
We are also circulating a petition requesting REZONING of Forest Knolls/Mt.Sutro Woods
Send your written comments concerning the EIR by June 26, 2006, to
Paul Maltzer, Environmental Review Officer, SF Planning Department
1660 Mission Street, Suite 500, San Francisco, CA 94103
We recommend you send a copy of your letter to
Supervisor Sean Elsbernd, City Hall, 1 Dr. Carlton Goodlett Pl., SF 94102
Email Sean.Elsbernd@sfgov.org
---
PLEASE DISPLAY THIS POSTER IN YOUR WINDOW!

Save our neighborhood and say NO to the massive 34 unit development and say NO to Traffic!

Affected Streets: Warren Drive, Oak Park, Devonshire Way, Christopher, Crestmont Drive.

Call 640-3869 or send an email to info@crestmontpreservation.org to request a poster for yourself and your neighbors.

---

August 2005 - Update

The Planning Department is reviewing the Environmental Impact Report and is expected to present a draft at the end of the year or the beginning of 2006.

We are in contact with Supervisor Elsbernd and the Planning Department and need to be prepared and organized! Call 640-3869 to volunteer.

Kristine Zaback reports that a group of 12 neighbors attended the Official Reopening of the Sutro Walkway, attended by Supervisor Elsbernd. They displayed our new sign (see above) and wore buttons: "It was a very dramatic statement. Neighbors, staff of the Water Department, other city department employees, and Susan Leal approached us for more information on our opposition to the project. As we had hoped, we were able to make an impact on a variety of different levels. We made a visual impact that appeared organized and the tip of a larger group. The politicians and city employees were impressed and the message will get around City Hall. I spent a great deal of time talking to the reporter from the "Sing Tao" newspaper who wants to follow up on this issue."

---
Join your Neighbors at the Official Reopening of the Sutro Walkway

Date: Friday, July 1, 2005, at 11:00 AM
Place: Clarendon at the entrance to the reservoir and up the street from our local firehouse,
across the street from the entrance to Galewood Circle.

At the reopening of the walkway around Sutro Reservoir, please join your neighbors and help bring the Crestmont Hills Development issue to the attention of City officials. Let's show Supervisor Elsbernd, SFPUC General Manager Susan Leal, and other elected and department officials that we oppose the proposed 34 unit Crestmont Hills development.

We will distribute STOP Crestmont Hills Development signs to post in your windows.
For more information, contact kzaback@earthlink.net.

---
Articles in the Press:
CONDO ANGST
Forest Knolls Residents Fight Mt. Sutro Plan
Article from The Examiner, July 26, 2004
Click here for article & photo...
An Eerie Slide in San Francisco Landslide on Mt. Sutro, 1979
Click here for articles & photos...